Hi everyone! This week I'm doing mini reviews on each of the books in THE MAGGIE BROOKLYN MYSTERY series. There are only three of them, so you don't have to worry about sticking around here for so long. (Speaking of sticking around, I only have a few more days of school left!)
Book 1: GIRL'S BEST FRIEND
Age Range:

8 - 12 years

Series:

A Maggie Brooklyn Mystery

Page Count:

288 pages

Publisher:

Bloomsbury USA Childrens; Reprint edition (October 25, 2011)


Dogs are disappearing all over Park Slope, and it's up to Maggie Brooklyn to figure out what's going on. Maggie knows things. She notices details that other people miss. Plus, she has a semi-secret after school gig as a dog walker. So she is the perfect person to solve the mystery.
Unfortunately, Maggie is also the perfect person to help her ex-best friend, Ivy, recover her lost dog, Kermit. She already has leads on a few suspects. But even though Maggie knows a lot about dogs, apparently she doesn't know anything about boys--because she never expected her crush, Milo, could be involved...
Leslie Margolis's pitch-perfect voice and rich characters have endeared her to tweens, and her fans will flock to this hip new series featuring a clever and lovable new heroine, Maggie Brooklyn.
Book 2: VANISHING ACTS
Age Range:

8 - 12 years

Series:

A Maggie Brooklyn Mystery

Paperback:

256 pages

Publisher:

Bloomsbury USA Childrens; 1 edition (January 8, 2013)


When a movie starring tween heartthrob Seth Ryan starts filming in Park Slope, everyone gets movie mania-including Maggie Brooklyn Sinclair. Though her plans to become a movie extra don't quite work out, Maggie manages to capture Seth's attention and he seeks her out at the Pizza Den to talk. But just when Maggie's life is feeling like a romantic comedy, Seth disappears! Everyone thinks he's been kidnapped, but Maggie knows better. . . .
This young Nancy Drew is back, along with her twin brother and dog-walking business, in a second mystery that shines a spotlight on her super-sleuth skills. Leslie Margolis's pitch-perfect tween voice will leave fans begging for more of this love-able heroine.
Book 3: SECRETS AT THE CHOCOLATE MANSION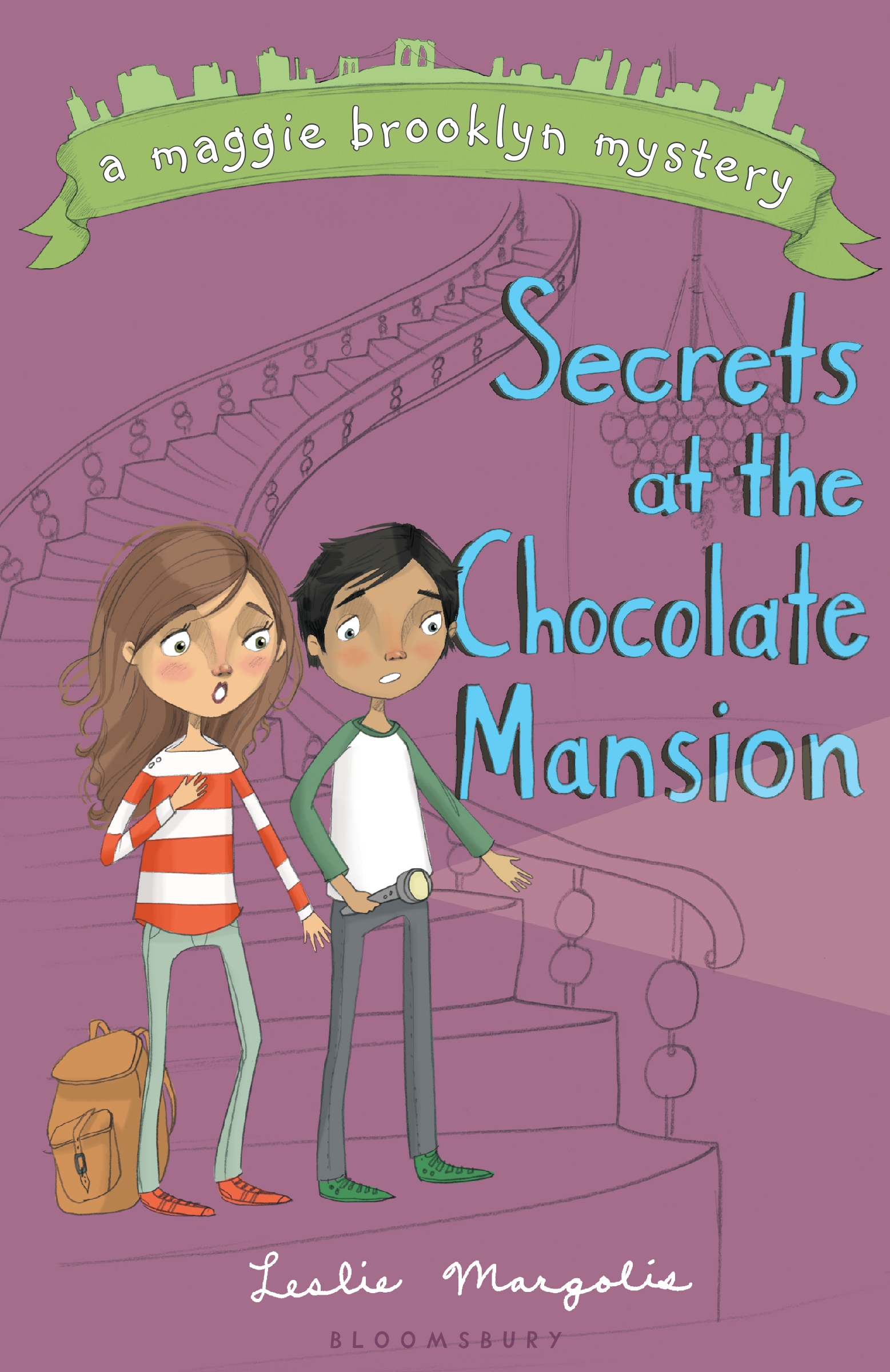 Age Range:

8 - 12 years

Grade Level:

3 - 6

Series:

A Maggie Brooklyn Mystery

Paperback:

272 pages

Publisher:

Bloomsbury USA Childrens; Reprint edition (September 23, 2014)
"
Take your cookies elsewhere."
That's what the note said in neat, block-like print, attached to a box of Girl Scout Cookies. Someone is out to sabotage the new sweet shop in the neighborhood, and Maggie Brooklyn is on the case. If only she weren't so freaked out herself lately. Maggie's new dogsitting gig has her and her twin brother Finn hanging out in what they fear may be a real haunted mansion. And it's hard to solve real life mysteries when you think you're seeing ghosts!
3 things I liked about the entire series:
It was about a twelve-year-old detective who was a semi-secret dog-walker who had a twin brother. It doesn't get more interesting than that. I was so surprised by Maggie. She's smart, funny, unique, and was the person who made this story one of a kind. I love her!
The clues and hints. Throughout the story, little things will be dropped here and there, though it's definitely not easy piecing them together. Even the best detectives will be surprised. This story isn't confusing, but it will keep you guessing.
The real-ness of this story. I know I use this reason a lot, but bear with me. As a review said on Goodreads,

The best thing Margolis has always brought to the table is her characters, and her truthful capturing of a pre-teen spirit. With Maggie, Margolis has a young lady who is clever, funny and a tad unsure of herself, as any 12-year-old would be. She worries about talking to boys, the dress code at her own party, and calling her former 3rd grade teacher by her first name, which just feels weird.

She's a real girl, and a real girl really worth the effort of getting to know.
To visit Lesile Margolis's website, click HERE.
To go back to Shannon Messenger's website or to check out the rest of the MMGM links, click HERE.
To learn more about Maggie Brooklyn, click HERE.
Thank you so much for joining me today! Have a nice week! :-)
***Sorry if there are any grammar mistakes! :-)***