Hi everyone! First off, I'm so happy to announce that I have won an award! Because of this blog! A special thanks to all of my readers and especially to Achieve, the awesome program that allowed me to show my potential and learn new things this summer. Thanks so much for the Outstanding Student Award! You don't know how much that means to me!
Second, this week, I'm doing two movie reviews! I know I'm slightly late on the Inside Out review, but I just watched it on Friday at the movie theater and it was awesome! And as for DESCENDANTS, I watched it early on the Watch Disney app, and that one was awesome as well! Here are the reviews!
"Meet the little voices inside your head." ~Inside Out
Release date:
June 19, 2015
Director:
Pete Docter
Production companies:
Pixar, Walt Disney Pictures
I am in LOVE with this movie poster. Each character is portrayed perfectly. Here's the storyline...
"Riley is a happy, hockey-loving 11-year-old Midwestern girl, but her world turns upside-down when she and her parents move to San Francisco. Riley's emotions -- led by Joy-- try to guide her through this difficult, life-changing event. However, the stress of the move brings Sadness to the forefront. When Joy and Sadness are inadvertently swept into the far reaches of Riley's mind, the only emotions left in Headquarters are Anger, Fear and Disgust."
I think the reason why I love this movie so much is because of the characters. Let me introduce you to them:
Joy: She's the leader of the emotions. Joy makes sure that Riley is happy and that everything is running smoothly.
Sadness: She's the storm. She's the rain. She's Sadness. And she also thinks that happy movies are the ones where the dog dies.
Anger: To say that he has anger issues is to put it mildly. He's the crazy one with the flaming fire on his head.
Fear: Fear is the little purple dude who's scared of everything. I don't think there's any explanation needed
Disgust: She's grossed out 99% of the time and in my opinion is the most sassy one in the group.
By the end of the movie, I felt like I was family with all of the characters. There were ups and there were downs, but the characters will probably stick with me for a very long time. The script was written very clearly and it was very easy to understand which makes the movie perfect for the younger audience, but also very dramatic, which makes it perfect for adults as well.
I think my favorite character would have to be Joy, because even after some MAJOR let downs and obstacles she never gave up and always found another way around the problem. She also has a very good sense of humor, which makes the movie both seriously touching and funny.
THE FINAL RATING...
There's no doubt of what my rating is: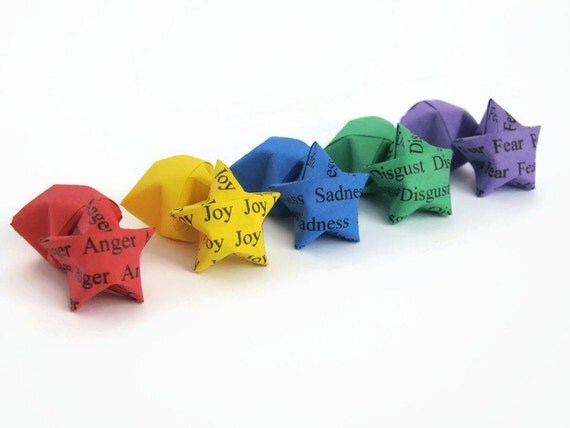 Isn't this picture awesome? Each of the stars go to each of the characters!
Now we are switching gears to...
DESCENDANTS:
"They're not bad. They're just born that way." ~Descendants
Director: Kenny Ortega
Initial Release: July 31, 2015 (USA)
Distributor: Disney Channel
I cannot describe how much I loved this movie. Not only did they do a continuation and mashup of all of Disney's most evil villains, they also had some pretty awesome people star in the movie including: Dove Cameron, Cameron Boyce, Booboo Stewart, and Sofia Carson. Here's the totally evil-licious story line...
"King Beast and Queen Belle marry, unite the Disney kingdoms into the United States of Auradon, and are elected the leaders of the new idyllic kingdom. All the villains, sidekicks, and accomplices are forced after their defeat to live imprisoned on the Isle of the Lost, a forbidden island surrounded by a barrier that also inhibits magic.
In present day, Auradon, Prince Ben, the teenage son of King Beast and Queen Belle, is about to ascend the throne. His first official proclamation offers a chance at redemption to selected trouble-making teenage children of villains from the Isle of the Lost. The villainous descendants are allowed into Auradon to attend a prep school alongside the teenage children of iconic Disney heroes. However, the evil teens are under pressure by their parents to help all the villains regain power by stealing the Fairy Godmother's magic wand."
This movie is about how the privilege of a lifetime is finding who you are and embracing that person. It's a wonderful movie about individuality, being different, and find where you belong. Here are some descriptions about the main characters to help you get to know them better.
Mal: Rumor has it that Mal is the most evil of all because her mom happens to be the one and only...Maleficent. (Played by Dove Cameron)
Evie: Who's the fairest one of all? Well it better be Evie, because she's the daughter of the Evil Queen. Totally evil, right? (Played by Sofia Carson)
Jay: Everyone says that "The true judgement of one's character is what they do when no one is watching." If you know who you're dealing with, you better watch your stuff! Because Jay's a pickpocket and plain old thief. Jay's father is Jafar. (Played by Booboo Stewart)
Carlos: He's a pretty fast runner...if there's a dog chasing him. Carlos is the son of Cruella De Vil. (Played by Cameron Boyce)
This movie had my heart beating so fast that I thought I might've died on the spot. There are SO, SO, SO many plot twists and I swear to god you will never be able to guess what happens. I can't say much without revealing things so now might be a good time to end the post before I give you guys spoilers...
The stars are purple because Mal's color is obviously purple! :-)


Thanks so much for joining me for MMGM and I hope you all have a nice week!
-To go to Shannon Messenger's website or to find more MMGM's, click HERE.
-To get more details about Inside Out, click HERE.
-
To learn more about Disney's Descendants, click HERE.