Hi everyone! I hope everyone's summer is well. Today is going to be a bit of a different blog, as not only is it a movie review, but my absolutely AMAZING friend Leah is here to help me out of my blogging slump! She's here today to bring you Your Name, otherwise known as Kimi No Na Wa. Enjoy! <3
"What this film has to say about how we experience time and loss overpowers the demands of logic."
-Yoshida, Vulture
From director Makoto Shinkai, the innovative mind behind Voices of a Distant Star and 5 Centimeters Per Second, comes a beautiful masterpiece about time, the thread of fate, and the hearts of two young souls. The day the stars fell, two lives changed forever. High-schoolers Mitsuha and Taki are complete strangers living separate lives. But one night, they suddenly switch places. Mitsuha wakes up in Taki's body, and he in hers. This bizarre occurrence continues to happen randomly, and the two must adjust their lives around each other. Yet, somehow, it works. They build a connection and communicate by leaving notes, messages, and more importantly, an imprint. When a dazzling comet lights up the night's sky, something shifts, and they seek each other out wanting something more - a chance to finally meet. But try as they might, something more daunting than distance prevents them. Is the string of fate between Mitsuha and Taki strong enough to bring them together, or will forces outside their control leave them forever separated?
----------------------------------------------------------------------------------------------------------
"Once in a while when I wake up, I find myself crying. The dream I must've had I can never recall. But... the sensation that I've lost something lingers for a long time after I wake up."
I don't know where to start with this review! This movie has all of the elements to make you fall in love with it and hate it at the same time. I was warned before watching it that I would be hit by so many feels. And I was hit. Hard. Like a truck. Everything about the movie is perfect. The aesthetics, music, and the script worked together to make a masterpiece. Just to show a bit on the aesthetics: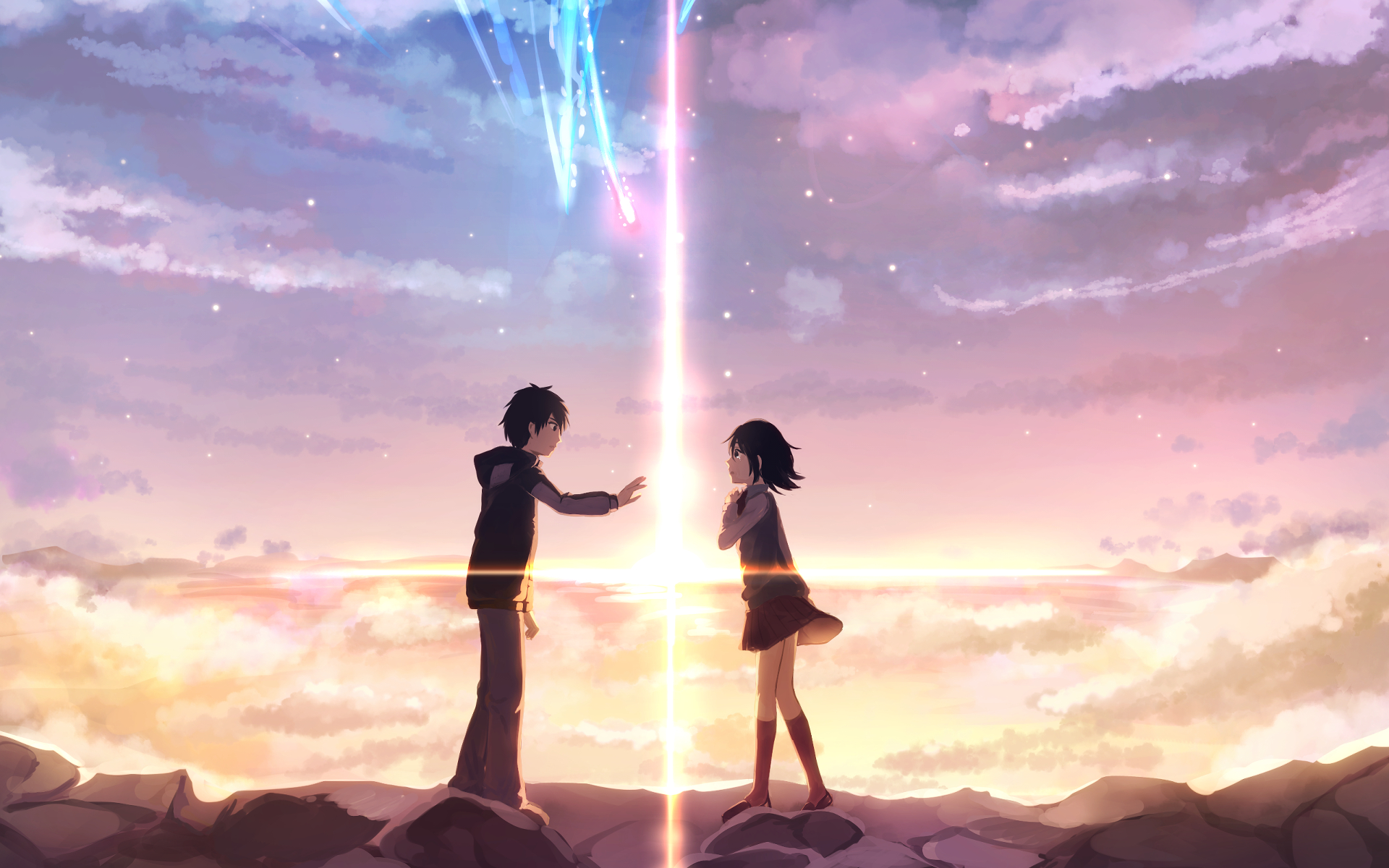 I'm not saying that the art or the aesthetic makes a good anime movie, but the shading and colors really put you in the mood. They did an excellent job of setting the scene and I was able to sink into it quite easily. (if that makes sense to any of you at all).
And now the characters. I have to admit I loved them all but I can't say that I was totally attached to them. Unlike previous animes I watched I didn't have an obsession over them like I usually would. Maybe it was because it was a very straightforward movie that didn't focus too much on each characters' background. Either way, I still cheered on Mitsuha and Taki's love for one another. I appreciated the depth and maturity in the characters, especially from Mitsuha.
I honestly feel like I can relate to Mitsuha the most. She yearns for something more in her life and wishes to be seen as as any other "normal" (what is normal?) person. As the mayor's daughter, she must watch after herself and keep the family traditions of their temple. She keeps her dreams to herself, holding herself back in order to not hurt the people she loves and taint her father's image. I admire her actions of selflessness and her maturity to be an example to her little sister. Still, I think that we should all try to follow our dreams!
Moving on to Taki…
I personally think he is extremely funny and naive. I mean, both Taki and Mitsuha are quite cute when they explain what they do when switching bodies. For example: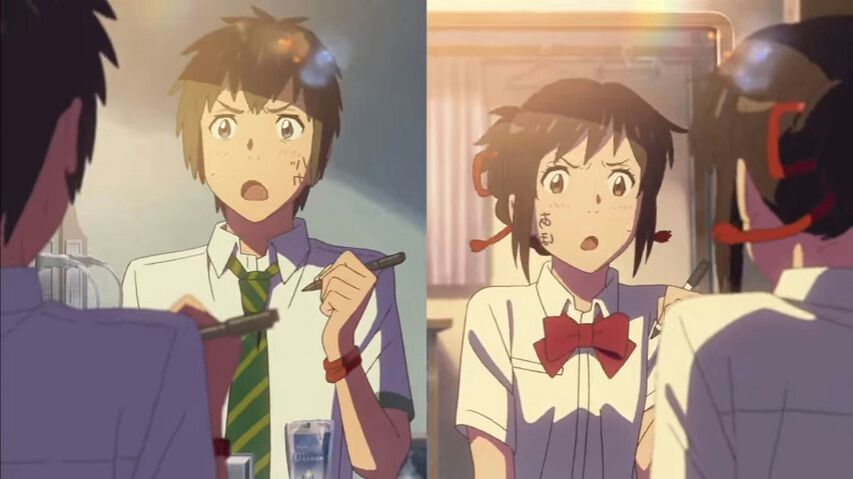 (kekeke honestly I'd have the same reaction if I switched bodies lol)
It's so funny whenever Mitsuha (in Taki's body) tries to help Taki's love life. The aftereffect is hilarious and makes me feel bad for Taki. I'd say Taki is similar to Mitsuha; while I was watching the movie it seemed that he felt that life wasn't giving him much. Actually both of them looked so desperate for something more until fate brought them together. Taki is very affectionate towards those he cares about but he is quick to change emotions. Personally, I find tears come faster to me whenever he cries and his emotions are portrayed so well. I mean just look at this precious cinnamon bun:
(wagh don't cry child it's okay T.T)
Now I'm going to bring in the stressful stuffs: symbolisms and predictions! (yes I know I'm so sorry guys)
Kimi No Na Wa has so many types of hidden messages and hints all over the place. Unfortunately since this is supposedly a spoiler-free blog, I cannot tell you all these clever tricks up the directors' sleeves. I still believe that directors are people who feed off of people's fear for the next episode/scene/MV *cough cough BTS cough cough* Just kidding, I love directors. Anyways the symbolism is deep all throughout.
I love how they decided to use Mitsuha's braid cord as a red string of fate. If you don't know what a red string of fate is, it is an East Asian belief that the gods tie an invisible red string to two people so that they would meet each other.
Basically, the braid cord is passed around in the movie between Mitsuha and Taki (as in they're connected!!!) and it definitely sticks out throughout the animation. I'd say that the red cord is a big part of her identity and definitely helps Taki recognize her. (wait is this considered a spoiler?) Anyways with all of this symbolism and plot twists you'll be at edge of your seat throughout the whole movie. (or bed edge depending where you watch)
I'm sorry guys, bear with me for a bit more as I continue this rant…
Soooo music. The music is absolutely beautiful and has this feeling I can't put into words. Some of the songs have an ethereal feel and some just feel so...hmm… it has that feeling of life. It has a mystical feel but a bit of roughness that seems to describe life, or rather the mysteries of life. I can't really explain it so here are links to a couple of my favorite songs.
They both have the trailers so I hit two birds with one stone. Smart, am I not? Anyways, if you actually listened to the songs (and I mean listen listen by putting your heart into it and searching for something blablatkaflsef), you can probably understand what I mean up above.
So as I come to an end (yes there is an end of this rant), I will tell you my overall experience and rating of this beautiful anime movie. If you are a weak-hearted person like me, YOU WILL BE BAWLING YOUR EYES OUT by the beautiful ending. I will tell you though: there is some sort of dissatisfaction that you feel in the end, at least for me. The feels will hit you (like a truck) unexpectedly so I highly recommend a box of tissues near you. Now if you're just a normal person whose heart clenches for a slight moment then you'll survive. If you have no heart, don't bother watching it. Overall my rating for this movie is… *drumroll please*
*gasp* Yes I know, it's nearly perfect but don't be discouraged by this imperfection, PLEASE WATCH IT!!! The only reason why I put a 4.5 is because of the ending. Maybe it was just me comparing to previous ones I've watched. If you want a perfect 5 star I highly recommend an anime series called Shigatsu Wa Kimi No Uso. (which is the picture at the right) Yea, I know I'm advertising something else I'm sorry.
I'm sorry for infiltrating this book blog to just dump my weaboo trash here but since both Cindy and I love this anime, we decided to put this review up here. I have to say, Cindy definitely needs to update her bio considering that she has been introduced to new fandoms and other things that should be under the things she love. For example: anime and KPOP. (courtesy from none other than me)
But anyways maybe I should end this post with an introduction, because introductions are best done at the end of a piece.
My name is Leah and telling you my last name is unnecessary so I won't tell you.
Obviously I'm friends with Cindy and the best way for us to connect is through books. Yes, I bet you can't believe it. I am a bookworm. Why did I not do a post on a book? Because I can.
I'd say my taste in books is quite different from Cindy. She likes to read fantasy and sci-fi like I do, but all the reviews in her blog seem to be mostly about life and stuff. Oh and the keeper of lost cities. Not that I like that genre it's just I prefer to be kept in the world of teen fantasy. Here are a few of my favorite books:
1. Throne of Glass (and series) by Sarah J. Maas
2. Cinder (and series) by Marissa Meyer
3. Harry Potter (and series) by J.K. Rowling (I don't know why
4. Relentless (and series) by Karen Lynch
5. Divergent (and series) by Veronica Roth
6. The Finisher (and series) by David Baldacci
7. Graceling (and series) by Kristin Cashore
8. City of Bones (and series) by Cassandra Clare
9. Lady Midnight (and series) by Cassandra Clare
10. Heartless by Marissa Meyer
11. Carve the Mark (and series) by Veronica Roth
12. The Queen of the Tearling (and series) by Erika Johansen
13. Of Fire and Stars (and series) by Audrey Coulthurst
14. Three Dark Crowns (and series) by Kendare Blake
15. Iron Butterfly (and series) by Chanda Hahn
As you can see by the titles, these are all teen fantasy books so if you're not really into action, death, extreme sorrow, or other mature themes that should not be shown to 15 under then I recommend you don't read these books. I also forgot to add a book I'm working on: The Handmaid's Tale. I highly recommend this book if you want to read a dystopian book written by a brilliant author. It's depth and… right no more reviews. Anyways, you're probably bored by my blabbering and probably didn't even read 30% of this so I'll let go of you and go back to my shell. It was nice to give you a review on something I love and thank you so much Cindy for giving me a chance to be a part of your blog!! I hope each and every one of you have a great rest of the summer and not get into a reading slump like me!
WITH LOTS OF LOVE FROM READER TO READER,